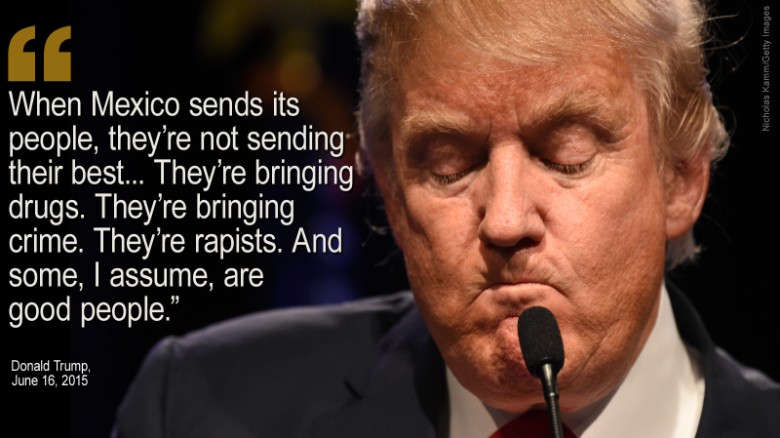 It is despicable to undermine the believability of a government judge in view of his Mexican legacy.
It is despicable to belittle a Gold Star family and propose to restriction all Muslims from entering the United States.
It is disgraceful for a possibility for president of a noteworthy gathering to commence his battle by naming most Mexicans as attackers and killers.
It is disgraceful when the Justice Department feels it needs to sue you a second time for racial segregation since you didn't get the insight the first run through.
It is woeful to play footsie with David Duke, to over and over retweet white patriots and false details about dark men and wrongdoing, to applaud the excitement of supporters who beat a destitute Hispanic man in Boston and punch a dark man at rally, to say dark individuals have a sluggish quality and have them introduced the gambling club floor when you appear.
It is lamentable to ascend to national political conspicuousness on the dogmatism that is "birtherism," considerably more wretched to have neither the character nor the boldness either openly to revoke or rehash that declaration while touting your assumed strength as an essential motivation to vote in favor of you.
It is regrettable that the rundown of miserable things done and said by the Republican chosen one for president is so long it's hard and debilitating to attempt to recall that every one of them.
It is miserable that a sizable rate of his supporters adore him due to those horrendous things - despicable that they now feel it is OK to express those perspectives out in the open. That is not understandable - regardless of how much monetary torment they've battled with these previous couple of decades.
However, what's most miserable is the automatic pushback against any individual who dares call attention to this reality, just as uncovering the disgraceful is more regrettable than the woeful things themselves. Perhaps the most ideal approach to abstain from being named vile is to quit doing and saying and remaining for vile things?
The general population has battled as it has pondered Donald Trump's new image of extremism, the advancement of a sort of contempt that as of not long ago had existed at the most distant edges of governmental issues and was rebuffed by all better than average individuals when it crawled into people in general talk.
Against this setting, now there is an erupt in light of the fact that Hillary Clinton on Friday committed the error of reminding individuals about Trump's reputation and why he could accumulate more backing than 16 more qualified Republican competitors.
(Don't bother that prior that day, the "alt-right" that Trump has introduced the standard was caught up with itemizing reasons why a few races are better than others and that Jews can't be trusted.)
To get a feeling of the exhausted shock over Clinton's remarks, you have to peruse them in full setting:
"You know, to simply be terribly generalistic, you could put half of Trump's supporters into what I call the wicker container of deplorables. Isn't that so? The supremacist, sexist, homophobic, xenophobic, Islamophobic - and so on," Clinton told a group at an asset raiser Friday night.
Most likely no right-thinking American differs that prejudice, sexism, homophobia, xenophobia and Islamophobia are, surely, despicable.
"(Trump) has lifted them up. He has offered voice to their sites that used to just have 11,000 individuals - now have 11 million. He tweets and retweets their hostile, disdainful, dastardly talk. Presently, some of those people - they are irredeemable, however fortunately they are not America," Clinton said.
Trump has lifted them up. He has given them voice. There's a reason Duke and white patriots are so jazzed about the possibility of a "President Trump." No one who has tailed this crusade in any genuine way can question that reality.
The main level headed discussion is by all accounts what rate of Trump's adherents are energized by his fanaticism. Fifty percent like Clinton said Friday? (She has since communicated lament for saying "half.") Ten percent? Twenty? The around 40% of Republicans who picked Trump against 16 different hopefuls while the primaries were still aggressive?
Alternately perhaps the about seventy five percent of Republicans who either don't accept or question President Barack Obama was really conceived in America, an assume that is so high in expansive part in light of the endeavors of Trump that backpedal to no less than 2011?
It is essential for Clinton - and others - to talk unmistakably about the risk postured by the offensiveness unleashed by Trump, in light of the fact that regardless of what happens in November, we as a whole will need to manage the aftermath. Not to do as such would be to wind up gathering to the mainstreaming of extremism.
That is the place I'll alert Clinton and her supporters. The most profane, foul-deduction Trump supporters are America yet are not irredeemable. An unpredictable arrangement of variables that can't be completely caught by a survey prompts individuals' grip of extremism and homophobia and sexism.
What's more, the fact of the matter is there are numerous individuals who make up Clinton's base - and different parts of the American people - who could without much of a stretch be taken in by that sort of talk, given the right conditions. None of us is insusceptible to our basest fears and impulses.